About the Show
Darkside Drive is a volunteer collaboration between writer Don Roff, producer Justin Guild, and a troupe of about 33 actors.
When writer Don Roff suddenly found his publisher's doors had shuttered (literally overnight) and producer Justin Guild had found himself on a brief medical leave as a commercial pilot, the opportunity arose for them to finally collaborate on a project.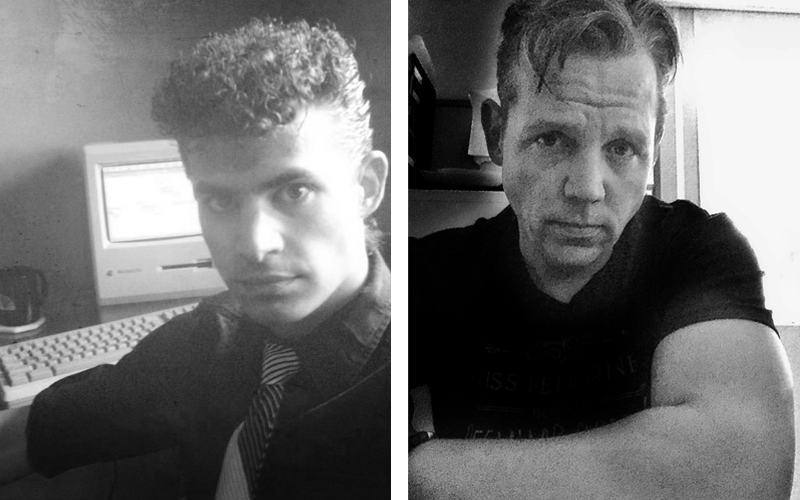 Justin Guild and Don Roff
Inspired by television shows from his childhood like Night Gallery, Don envisioned a series that features a new cast and situation every week. In a era of serialized entertainment, the anthology series has all but disappeared. Ever practical, producer Justin Guild found this to be the best way to maximize the range of actors available to the show, which is produced in Calgary, Alberta. Darkside Drive is a window into the world of performing arts in the city of Calgary. Departing from the usual model of individual microphones and multiple pre-recorded sessions, the show is performed live-to-tape, sound effects and all. The actor's use a single microphone, an AEA R44 (the next generation of the venerable RCA 44) just like the radio dramas of 70+ years ago, but that's where our resemblance to "old-time radio" ends. The show is intended for a whole new generation of radio.

Each of the 33 stage, voice, television, and film actors of the loosely associated Calgary Radio Playhouse auditioned and volunteered for the show. Each episode takes six hours in the studio to rehearse and perform over a period of two evenings. The first evening is a read-through, followed by a technical rehearsal. The second evening is a technical rehearsal for cues and timing, followed by the "performance" a live-to-tape session. The episode is then sent to post-production, where two versions are made. The first is a broadcast-safe version for syndication. The second is an analog surround-mixed version for home surround sound receivers and general stereo podcast listening. All episodes are recorded and produced at the production studios of CJSW 90.9 FM in Calgary, Alberta.


CJSW 90.9 FM is Calgary's community radio station, based at the University of Calgary. CJSW is a non-profit society maintained and operated by a group of seven staff members and over 200 volunteers drawn from both the University of Calgary student body and the wider city of Calgary population. CJSW broadcasts music, spoken word and multicultural programming on 90.9 FM and streaming/podcasting at cjsw.com.